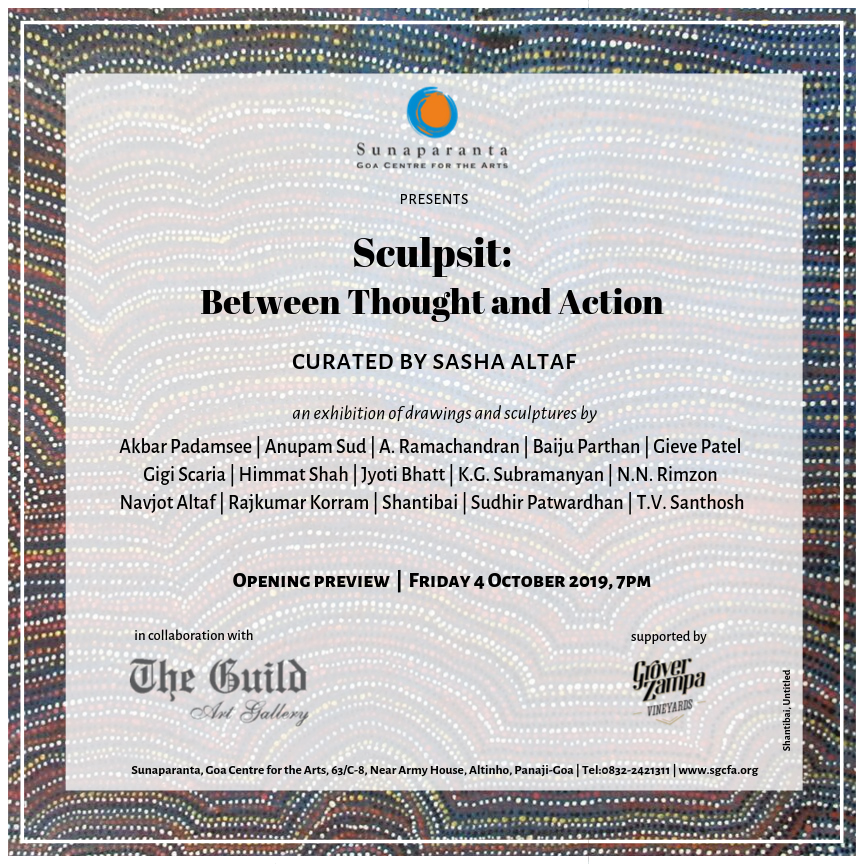 Sunaparanta - Goa Centre for the Arts is proud to present Sculpsit: Between Thought and Action, an exhibition of drawings and sculptures, curated by Sasha Altaf, opening on 4 October 2019 at 7pm. Inaugurated by Ms. Bunty Chand, Chief Executive Officer, Asia Society India Centre, the show is produced by patrons Dipti and Dattaraj V. Salgaocar.

"The term 'Sculpsit' literally means 'he (or she) sculpted it'... Up to the 1870s, book illustrations required two steps: the artist drawing the design on paper, and then an engraver translating it to wood or copper. Taking from this dialogic relationship between drawing to sculpture, the exhibition proposes to envision sculpture not as an (abstract) continuum but as a material envelope that grows organically from the original drawing, sketch, maquette or photograph.... whereby the artist plays both the role of the artist and the engraver ... emphasizing both change and transience, material and materiality, where the image (drawing / sketch / photograph) and the form (sculpture) reveal the complex interchanges and the ensuing interaction between the artists' drawing and the translation of it in form - the 'sculpture'." - Sasha Altaf
Sasha Altaf is an independent curator, art critic and an adjunct professor at the Department of Art and Art History, University of Miami, Florida. She has written and lectured on contemporary Indian art, especially on feminist practices, new media and its contexts. Author of "Altaf - Journals", 2019 and Erotic Autonomy as a Politics of Feminism", 2010 she completed her BA in Art History at the Maharaj Sayajirao University in Baroda, India and MA in Advanced Studies in Feminism and Visual Art at the University of Leeds, UK and MA in Art History at the University of Miami, USA in 2006 and 1999 respectively.


at

Sunaparanta - Goa Centre for the Arts
63/C-8, Near Army House, Altinho, Panaji-Goa 403 001
Phone: +918322421311 | Website: www.sgcfa.org

Timings: Monday - Saturday 10am to 6.30pm
We look forward to seeing you at the show.

For further information please contact

theguildart@gmail.com / teamattheguild@gmail.com

Copyright © The Guild, 2019 and Sunaparanta, Goa Centre for the Arts
All rights reserved