Ravi Agarwal: Else, all will be still
October 11– December 2, 2015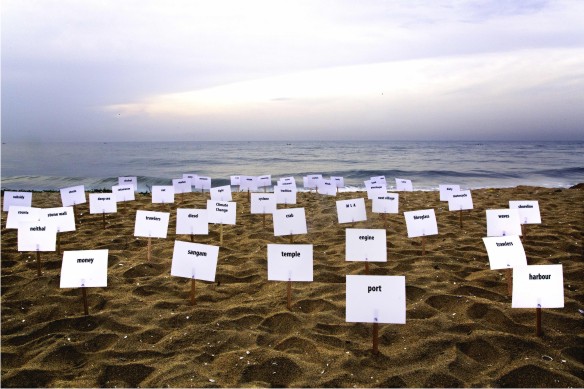 Ravi Agarwal is a photographer artist, writer, curator and environmental activist. He explores issues of urban space, ecology, capital in an interrelated ways working with photographs, video, performance, on-site installations and public art. Agarwal has participated in several international shows including Documenta XI (Kassel 2002), Sharjah Biennial 11 (2013); 'Zones of Contact propositions for the Museum', co-curated by Vidya Sivadas, Akansha Rastogi, Deeksha Nath, Kiran Nadar Museum of Art, Noida, 2013; 'The Needle on the Gauge: The Testimonial Image in the works of Seven Indian Artists',curated by Ranjit Hoskote, Contemporary Art Centre of SA, Adelaide, Australia, 2012; 'Newtopia', curated by Katerina Gregos, various Museum venues, Mechelen, Belgium, 2012; 'Critical Mass, Contemporary Art from India', curated by Rotem Ruff, Tel Aviv Museum of Contemporary Art, Israel, 2012; 'Z.N.E!, Examples to Follow', curated by Adrienne Goehler, traveling exhibition, Berlin, Mumbai, Adis Ababba, Beijing; 'Horn Please,' Kunstmuseum, Bern, 2007; 'Indian Highway' (2009); 'Generation in Transition,' National Gallery of Art, Warsaw & Contemporary Art Centre in Vilnius, Lithuania; 'The Eye is a Lonely Hunter, Images of Humankind,' at Fotofestival Mannheim_ludwigshafen_Heidelberg; 'After the Crash' at Museo Orto Botanico, Rome; his recent solo show being 'Of Value and Labour', The Guild, Mumbai; 'Flux: dystopia, utopia, heterotopia,' Gallery Espace, New Delhi. Agarwal recently co-curated a twin city public art project, Yamuna-Elbe.Public.Art.Outreach. He writes extensively on ecological issues, and is also founder of the leading Indian environmental NGO, Toxics Link. He is an engineer by training.
Admin office

28, 3rd Pasta Lane (next to Tulip
Building, end of 3rd Pasta lane)
Shahid Bhagat Singh Road
Colaba Mumbai 400005 India.

Open Monday - Saturday
11.00 am - 6.00 pm
By Appointment only

Phone:+ 91 22 2288 0195
+ 91 22 2287 6211 / 5839
Fax: + 91 22 2287 6210

Job Posting
The Guild art gallery is looking for Programming cum Client Relations Executive

Job description: Qualifications: Bachelors/Masters in English Literature,
visual arts, mass communication, marketing.
Work experience : 2 years in cultural/other fields
Key responsibilities: Exhibition, administrative, archiving and day to day management
of all activities relating to exhibitions and ongoing activities of the gallery. Client relations,
media and and sales development.
Capacity to manage projects independently.
Regular working hours and punctuality essential.
Long term commitment required.
Please apply with details:
theguildart@gmail.com