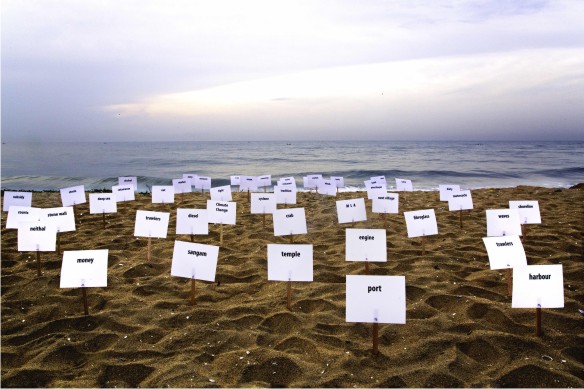 Ravi Agarwal, Rhizome, archival photographic print
Image copyright: Ravi Agarwal
<![if !supportLineBreakNewLine]>
<![endif]>
Ravi Agarwal: Else, all will be still
October 11– December 2, 2015
The Guild - Alibaug
1028, Ranjanpada
Next to Sai Mandir
Mandwa Alibaug Road
Alibaug - 402201
Hours: All days, 10-6.30 pm
theguildart@yahoo.com / theguildart@gmail.com
The Guild Art Gallery is proud to present Ravi Agarwal's new works in Else, all will be still, in his second solo exhibition with the gallery from October 11 – December 2, 2015. Previewing on Saturday, October 10, 12 noon to 4 pm. the exhibition is an outcome of Ravi's endeavour to comprehend the current ecological and political issues in his dual roles as artist and activist. Ravi writes, 'Two years back, I had a close encounter with the sea, a first for an inland urban person. It continues. The 'ground' changing experiences, led me to further my ongoing explorations about the man-nature relationship and the question – What is nature?
The pursuit revealed new ways of imagining. I was led to ancient Tamil Sangam akam love poetry, where five landscapes. Kurinji - mountains,Mullai - forests, Marutam – agricultural lands, Neithal - sea, Palai – desert, became an internal terrain of feelings - sexual union, yearning, sulking, pining, and separation, through its short direct verse. The outside became inside as object and subject co-formed each other.
Today, the planet is in an ecological crisis. Nature has been reduced to an object which can only be 'acted' upon through it being 'extracted,' 'admired,' 'enjoyed,' etc. but not 'lived' with. The relationship is one of power. Capitalism, technology, mass production, resource exploitation, all have prospered though this positioning. Wilderness has been privatized, forests fenced, rivers tamed, and animals made extinct. There seems no going back from consumption, and progress. It is the age of the power of man, the Anthropocene. No one can guarantee future survival.
The entrenched oppositional binary needs to be questioned and other positions with nature recovered. Deluze's with his idea of positive difference, Guattari's thesis on three ecologies, Tim Morton's rejection of 'nature' itself, or the Buddhist proposition of a non-dual self, offer clues to where one can look. Nature defined merely by science needs to be read alongside ideas of mortality, fragility, vulnerability, balance, equity and democracy.
The works are an outcome of my struggle to comprehend the times we inhabit. Fishermen friends helped me navigate new waters. The ever changing sea led me to these explorations. Urgency is in the air. Else, all will be still.'
The exhibition will feature new photographs, video, and installations. The online catalogue will include texts by curator Deeksha Nath and writer Renuka Sawhney.
Ravi Agarwal is a photographer artist, writer, curator and environmental activist. He explores issues of urban space, ecology and capital in an interrelated ways working with photographs, video, performance, on-site installations and public art. Agarwal has participated in several international shows including documenta XI (Kassel 2002), Sharjah Biennial 11 (2013); 'Zones of Contact: Propositions on the Museum', co-curated by Vidya Shivadas, Akansha Rastogi, Deeksha Nath, Kiran Nadar Museum of Art, Noida, 2013; 'The Needle on the Gauge: The Testimonial Image in the works of Seven Indian Artists', curated by Ranjit Hoskote, Contemporary Art Centre of SA, Adelaide, Australia, 2012; 'Newtopia', curated by Katerina Gregos, various Museum venues, Mechelen, Belgium, 2012; 'Critical Mass, Contemporary Art from India', curated by Tami Katz-Freiman and Rotem Ruff, Tel Aviv Museum of Contemporary Art, Israel, 2012; 'Z.N.E!, Examples to Follow', curated by Adrienne Goehler, traveling exhibition, Berlin, Mumbai, Adis Ababba, Beijing; 'Horn Please,' Kunstmuseum, Bern, 2007, curated by Bernhard Fibicher and Suman Gopinath; 'Indian Highway' 2009 , Serpentine Gallery, curated byJulia Peyton-Jones, Hans Ulrich Obrist ; 'Generation in Transition: New Art from India,' Zacketa National Gallery of Art, Warsaw, Poland, and Contemporary Art Centre, Vilnius, Lithuania curated by Magda Kardasz; 'The Eye is a Lonely Hunter: Images of Humankind,' at Fotofestival Mannheim_ludwigshafen_Heidelberg, curated by Katerina Gregos and Solvej Helweg Ovesen; 'After the Crash' at Museo Orto Botanico, Rome. His recent solo shows being 'Of Value and Labour', at The Guild, Mumbai, 2011; 'Flux: Dystopia, Utopia, Heterotopia,' Gallery Espace, New Delhi. Agarwal recently co-curated a twin city public art project, Yamuna-Elbe.Public.Art.Outreach. He writes extensively on ecological issues, and is also founder of the leading Indian environmental NGO, Toxics Link. He is an engineer by training.
For more information please contact teamattheguild@gmail.com
We look forward to welcome you at The Guild.