TEXTS
PUBLICATION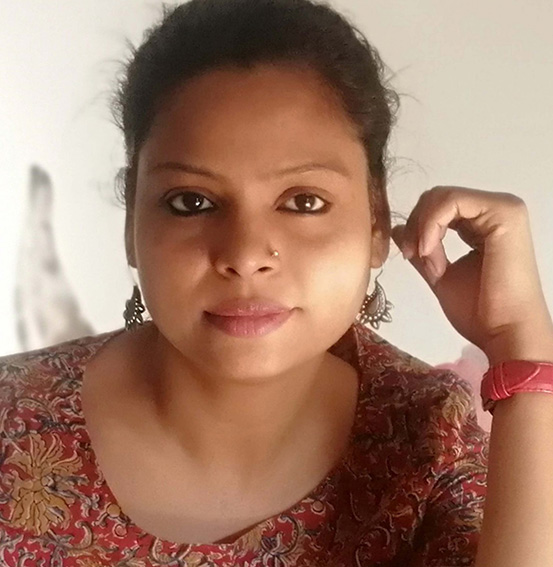 Kumari Ranjeeta was born in Mokama, Bihar. Her father was associated with a local chapter of the CPI, and gave her her early inspirations from radical poets as Kaifi Azmi and Sahir Ludhianvi, to thinkers such as Marx and Ambedkar. Her family has for several generations been involved in crafting objects from bamboo, such as baskets or winnowing trays.
Ranjeeta received her MFA in Fine Art from the Shiv Nadar University in Delhi. Her art practice questions the aesthetics of labour and migration, building a visual identity for the marginalised. Her works articulate solidarity with and bear witness to the women of her region, taking inspiration from the everyday and household objects that have been associated with 'women's work'. In removing these from their context, Ranjeeta places the familiar in the spotlight, accentuating both aesthetic beauty and harsh social realities.
Her recent exhibitions include The Chaos Trilogy: Disorder Under Heaven, The Guild, Alibaug, 2022; Woman Is as Woman Does, curated by Nancy Adajania, Jehangir Nicholson Art Foundation and Chhatrapati Shivaji Maharaj Vastu Sangrahalaya, Mumbai, 2022; Labour of the Unseen: Nihilism in Craft, Clark House Initiative, Mumbai, 2016; River with a Thousand Holes, Clark House Initiative, Mumbai, 2016; Stories My Country Told Me, curated by Yogesh Barve, Asian Cultural Centre, Gwangju, South Korea, 2016; And I Laid Traps for Troubadours, Kadist Art Foundation, Paris, and Clark House Initiative, Mumbai, 2014.