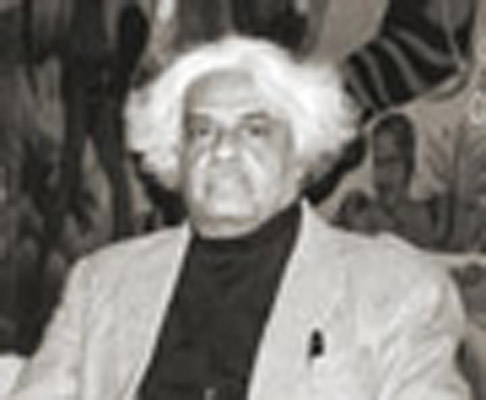 Prof. A. Ramachandran is one amongst the most eminent Indian Artist and has contributed significantly to the Indian art scene. There have been a number of substantial books on the artist including a two volume Book authored by Prof. R. Siva Kumar and published by Vadehra Art Gallery during Ramachandran's Retrospective at NGMA New Delhi during 2003. Ramachandran himself has been an intense scholar and has brought out the seminal volume titled "Painted Abode of Gods: Mural Traditions of Kerala" a culmination of 40 years of research and writing.
Born in Kerala in I935, Ramachandran received his Masters in literature from the Kerala University and Diploma in Fine Arts from Santiniketan. He was conferred Padma Bhushan Award by the President of India for his unique contribution to he field of Fine Arts. He was also conferred 'Professor Emeritus' by the Jamia Milia Islamia, New Delhi. Ramachandran has been a ceaseless experimenter and a versatile artist. There is an increasing recognition of his mastery over lines and colour. Over the years, his paintings have acquired a classical monumentality and his use of medium and colours a luminosity. As an artist, he is not content to merely represent the world of natural phenomena as perceived by the human eye. He transposes the visible reality into tropes expressing a personal philosophy, an idealized vision of the world.­­
Nature has played a pivotal role in A Ramachandran's artistic imagination. For the last twenty years, he has depicted many moods of the natural environment, its lush abundance, its inviting sensuousness and its air of decay. The bustling theatre of nature transforms the space into a complex and rich tapestry leading to a sense of drama in his art. All kinds of activities go on in different areas of the painting compelling the gaze to move from one point to another. Birds dart out, insects wheel about in the vegetation, an owl focuses on its prey, a monkey teases a woman, a goat stands in stoic resignation, squirrels skitter around in trees, flowers float down to the ground, and fruits ripen on branches and clouds mass on the horizon in his paintings. The colours are voluptuously seductive but they never let you forget the structural strength of the composition. His descriptions encapsulate the myriad hues of the universe as they are distilled from the very essence of nature, which he recreates. A. Ramachandran's painting thus becomes a feast for the eyes and the mind.
Another intriguing development in A Ramachandran's oeuvre is a series of portrait heads of tribal men and women, which have emerged as a genre and gained momentum since 2005. Done in oil, the small paintings generally show the head up to the bust and have a high degree of finish about them. The iridescent colours shimmer and are contained by sinuous lines defining the form, radiating a mystifying energy. The details of their expression, ornaments and drapery, has an intimacy and completeness about them with an element of iconicity in the stylization. In the last few years, the small heads in oil have formed an intriguing corpus of his works and vividly portray the artist as one with the tribal community.
An important characteristic of A.Ramachandran's work is that he paints himself like a narrative on the canvas so extensively that he creates a mythology around his self-portraits. Often there is a witty and mirthful touch to the various roles that he has cast himself into like bird, fish, tortoise, bat and other natural and foetal forms. This sense of identification with the spirit of nature, with the resurgence of life and its inexorable negation manifested itself in many of his watercolour and oil paintings. Embedded in these incarnations of the self is the artist's symbolic use of his person to express his distinctive world-view without being didactic and it also helps in expressing the diverse moods of the artist. Over the years, Ramachandran has created some of the most successful visual motifs to express his vision of paradise as a performer within it and an observer standing in the margins.
The book on A Ramachandran, published by The Guild crystallizes the artist's philosophy of life and his persona and his relationship with his subjects and himself while distilling his philosophy of the surge of life force in all things in the universe. His engagement with modernism does not confine itself to expressing himself through an international idiom, but reinventing a traditional idiom to suit a contemporary sensibility. Besides his paintings and murals, he has also created a substantial body of sculptures.