Gulammohammed Sheikh and Many Literatures
Looking at the topography of culture in Gujarat, the presence of Gulammohammed Sheikh has deep and diverse implications: an avant-garde on the literary scene; one amongst the few writers on art who had to perform a twofold task: one of educating and other more participatory in nature, which was aimed to create an environment to probe and discuss different issues in the field of art. Another aspect of surmounting importance is that his works bear witness to the socio-political life around him.
Though he has published only one book of creative writing, that is a collection of poems in Gujarati titled, Athava, he has translated, edited, designed a number of books and has produced several essays in different categories: personal, travelogues and profoundly reflective essays on art. Understanding Gulammohammed Sheikh as a creative person asserts the need to trace his evolution as an artist and poet; his departures and conjunctions, and his multi-aspectual contribution in the literary and visual world alike. At the same time one needs to understand how he viewed and later re-viewed his immediate surroundings as he moved locales; from Surendranagar, a provincial town of Saurashtra, to Vadodara, and then to the Royal College of Art London and back home. Each of these places pointed at novel thought to ponder on, these explorations into the newer ways, varied reading and writing worked as an impetus for him to explore and interpret them in his own language.
It was in the late 50's, early 60's, that Sheikh began working either in collaboration with his peers or singularly in conceiving publications of literary works. In the early 60's Sheikh got associated with a literary journal, Kshitij (1959-67), which functioned under the editorship of Suresh Joshi¹. The same journal published a special issue in May 1963, on Visual Art, which was edited by then 26 year old Sheikh. This two hundred page issue carried translations of Paul Klee, K. G. Subramanyan and many more prominent and aspiring artists and writers. Later Sheikh worked as a Sub-editor for Sayujya (1983, 85).
The time period surely cannot be considered as just a beginning period of Sheikh's literary contribution, as he had had a substantial presence in the literary field. But it surely highlights the instrumental role which Sheikh played in setting up a publication which would address wider and deeper concerns of the society. Not being shackled by the earlier traditions, he realized that the need of the moment was to be there in the 'present' and to live it, not by discarding the past but by taking a cue from it and understanding the role as an individual in the existing time. Therefore Sheikh along with Bhupen Kakkar and a group of enthusiasts, published Vrischik (1969-73). All efforts to run Vrischik – from writing, getting visuals to posting the issues, came from a group of friends. And the magazine got its name because majority of the members in the group shared the same star sign- Vrischik, scorpion. In the beginning, working with all the budgetary constraints, it was printed on brown paper, and then slowly moved to a better quality white paper, with good visuals - litho prints as folio, which comprised of works of Jeram Patel, Jyoti Bhatt, Bhupen Khakkar, Sheikh himself and few others.
This magazine was primarily started to strike a dialogue amongst artists, and it did not focus solely on visual arts. Taking a macroscopic view of the time in which it was being printed, Sheikh felt the need to include significant issues of social importance. From - letters by American soldiers in Vietnam, to translations of poetry of saints, the magazine looked at a wide spectrum of topics and stood as a reflection of the contemporary world, and invariably rather succinctly forced the readers to think. Apart from this, the magazine strongly challenged the Lalit Kala Academy, over its undemocratic practices and also spoke against the Triennale, and at the same time proposed feasible changes. It is important to note that though the magazine was brought out only for a short time span, one of the many things it did was that it proved how responsible and thoughtful minds could oppose and bring about changes in well established and powerful institutions in an absolutely rational manner.
It is difficult to bracket Sheikh in any one rigid category, his numerous essays on art: on Indian art, on the history of art in Gujarat, on debatable issues of contemporary art, or, the obituary he penned on the demise of Nasreen Mohammedi and also the letter in appreciation of Murals of Shekhavati reveals his profundity in envisaging and addressing the histories, arguments and admiration. His only collection of poems, Athwa (1974), carries poems of ephemeral images and dark symbolism; also the varied registers of dialects make them polyphonic and vital. These poems on - self, people and places are engraved deep in the collective memory of the region. For example, the series of poems entitled, Jaiselmer,* are not just poems on that famous city of Rajasthan but are also a fine example of how an artist could render the visual memory of a city into a verbal language of images, or the series of poems on the works of visual artists: in the series of poems entitled, on The Drawings of Jeram Patel, the poet deciphers gruesome and macabre visions of an eluding artist. Meanwhile, his translations of Lorca, Neruda and some of the contemporary poets of Europe, speak of his affinities and reaches as an anxious poet.
For years now, Sheikh has been appearing as a finest prose writer of Gujarati language. His masterful and meticulous craft of writing has become a class of its own. The rendering of the people and places in the series of essays on Returning Home, The Reminisces of Civitella or Pages from a Notebook portray an acute sensibility of perception and memory. His indefatigable urge to bring forth essence of the matter, in minute descriptions leads to fabricating varied and vivid textures of language. And yet, these prose pieces elude from being an inventory of the past which is lost.
Piyush Thakkar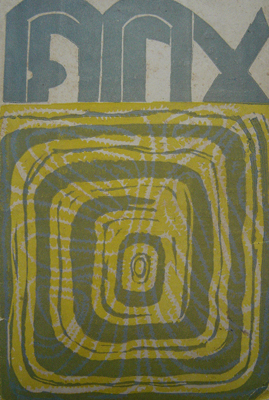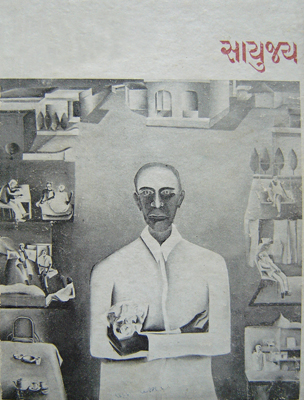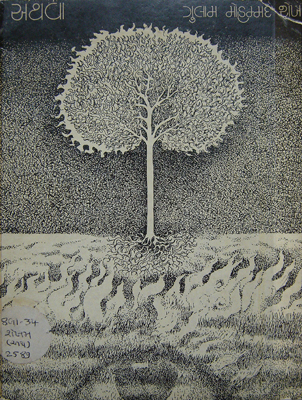 Courtesy : Piyush Thakkar
Cover page of Kshitij Cover page of Sayujya 1983 Cover page of Athwa - 2
Jaisalmer – 1*
In a desert land this pearl-studded city
Peacocks perch on brackets and elephants
ramble over walls.
Every balcony lace-embroidered in stone,
every window festooned with gashes of blunt swords.
In the twilight walls flare like orange orhdnis²
Eight generations of hands have smoothened
the door's iron ring.
Black goats loiter in the courtyard and beyond
the yard door the dutiful camel bleats.
Red garments dry over the middle wall.
A limp flame flickers
In a room's moldy darkness.
In the hearth's red flush, in the
chundadi's³ glow, a golden girl
kneads a loaf-shaped city.
- Gulammohammed Sheikh, 1963
(Translated by Saleem Peeradina and the poet, from Gujarati).
*(Part of a series of six poems written on visiting the then deserted old fortified town in Rajasthan, surrounded by desert)
------------------------------------------------------------------------------------------------------------
Notes:
1: Suresh Joshi (1921-86): Has an influential presence in the literary scenario of Gujarat. He worked as a teacher of Gujarati literature in many universities. One finds a number of poetry collections, personal essay collections, short story collections, books of literary criticism on his name. To initiate and disseminate the new perspectives of literature, he edited, co-edited and published several little magazines during his life time. To name a few: Vani (1947-49), Manisha(1954-55), Kshitij (1959-61), Samput (1969), Uhapoh (1969-74),Aetad (1977-83), Sayujya (1983,1985), Setu (1984-86).
2 and 3: Free-flowing drapes of women
Piyush Thakkar is a freelance writer, poet and artist based in Miyagam Karjan a town near Baroda.
Photo credit - Vrushali Dhage