A project by Riyas Komu, MARK HIM presented by The Guild on 23rd December 07 – 6th January 08 talked about football players possessing modicum of athletic ability yet facing the adversities of the sport making a honorable mark. By having hardly any monies involved, it appears as a game of the poor. The sport press is even hard pressed to find space for Indian football, leaving no hope of making any sense of the coming apocalypse. This naiveté of the players is reflected in the innocence with which these young players have posed for the camera. An innocence underneath which lies the unrecognized layers of grit, determination and resolve to continue playing and not give up the game despite its inherent vagaries and uncertainties. Despite their forlorn existence denied of a comfort zone that sportsperson elsewhere enjoy they have stuck to it, or the football has stuck their feet.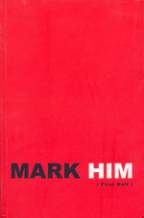 The catalogue comprises of 69 pages with 24 pages of colour plates.
Riyas Komu - I have not known a greater joy than that of watching guys in shorts kicking a ball around. I have done the feetie myself a number of times. But there has always been a gnawing feeling in the back of my head that kept on saying: the best of goals are not always 'the best of goals'. So I set one for myself — to use art to redeem the place of our footballers in the society, in our history. Therefore, MARK HIM.
Mark Him, for he is poised, yet not preferred. Mark Him, for he is persistent, yet preordained to relegation. Mark Him, for he deserves a better destiny, a more attractive destination. Why are our football stars cloud-capped?
Riyas Komu born in Kerala in 1971, received his B.F.A and M.F.A from Sir J.J. School Of Art with painting as his specialization. In 1992 he came to Mumbai - a city which was always about 'dreams', about 'making it big and the surrounding static of media outpourings became a fecund source of inspiration. In his artistic journey he has included sculpture, photography and video- installations to the wide spectrum of his works.
His solo exhibitions include 2006: Systematic Citizen, Palette Art Gallery, New Delhi.2006: Faith Accompli, Sakshi Gallery, Mumbai.2005: The Third Day, Lalit Kala Academy, Rabindra Bhavan, New Delhi presented by Sakshi Gallery, Mumbai.2005: Grass, photography show, The Guild Art Gallery, Mumbai. 2003: Sarasu, photography show on Raja Ravi Verma Press, The Guild Art Gallery, Mumbai. 2002: UNCONDITIONAL, Sakshi Gallery, Mumbai 2002 - 2003: AMBULANCE, Renaissance Art Gallery, Bangalore
The Guild Art Gallery, India, are pleased to offer the catalogue of MARKHIM for sale.
Price from The Guild in India Rs 500/- ( USD – 13 )
Shipping in India + Rs 300, International Shipping + USD - 20
Cheque to be issued, favouring The Guild.