Cultures and many locales
Bhavna Kakar takes a look at Subodh Gupta's works which touch the notion of culture, flowing through different locations and timeframes.
Subodh converts banal objects into icons of our ordinary lives. He is a maker of irreverent icons. The everydayness of objects is suddenly broken with an artistic intervention and at the same time the aesthetical intervention is brought down to a kind of banality in this act. With one stroke Subodh erases the distinction between the quotidian and the aesthetical and this coalescing with ease and humor gives a certain amount of ambiguity to the object, which now is selected and aesthetically mediated (or re-casted through a medium which is not 'natural' to the casted object). Subodh Gupta's works portray objects and images of indecisive moments and cultural fluctuations. During the past decade, his art has employed certain clichéd emblems of India: the cow, stainless steel kitchen articles, the scooter, cow dung cakes, and his own persona as a man from a village in Bihar. All along, Gupta's purpose was two-fold -- to both edify such emblems and to critique them. Since his aim is dual, to elevate and reprimand, his penchant is usually for images and objects which already possess an internal hybridity which already appear to be comically confused themselves.

Gupta seems to flow fluidly between different mediums, concocting a web of overlapping concerns in the process. His basic role could be that of a sculptor, for even in two-dimensional works he is most often concerned with images of objects in spaces while in video works he foregrounds his own body within a controlled mise-en-scene. His primary sculptural vocabulary takes clues from the dedicatory often suggestive of the charming figures of concrete which stand stoically in the middle of round-a-bouts in small towns all over India (in that he is inspired by both the statue and the swirl of activity surrounding it). Gupta often makes monuments out of common objects by casting them in different materials and often combining them into ensembles; anti-monuments perhaps which portray the hopes, dream and struggles of the common Indian today.

By early 2000's Subodh had already embarked upon casting familiar and banal objects in bronze and aluminum. He casted a few bamboo sticks (which could be a cowherd's tool, a goon's weapon or even an old person's walking stick), bicycle, milk cans, Bajaj scooter with milk cans hung all over it, Ambassador car etc. in bronze and aluminum. While drawing inspiration from the theory of banality propounded by Andy Warhol, Subodh was actually playing with the theatrical and literary devices of direct statements that impart a kind of surprise to the viewer.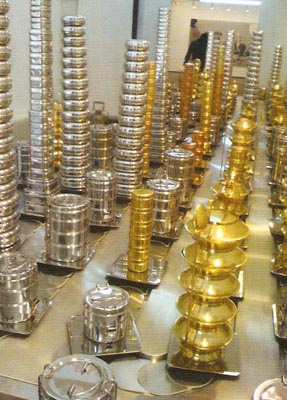 A cycle, the ordinary working man's medium of conveyance, a semi-mechanized mule of our times is given an iconic status in this particular work. This mechanical beast of burden, with its new iconic status stands pretty in the gallery space with bronze lottas hanging from its carrier. This cycle and the lottas, in a way make a metaphorical link between labor, production and profit, and also the aspirations and desires of human beings. Probably the cycle and the lottas represent the structure of a village economy, complete in itself. It is an antithesis of the global economy represented through airport trolleys and ambassador cars.
In one of his works, The Way Home II of 1999, the artist placed a life-size cow, cast in fiberglass and painted white, within a circular field surrounded by a combination of steel kitchen utensils and ersatz country-made pistols. Here, violence lay camouflaged and dormant within the bosom of domesticity, the symbol of a transcendent purity inaccessible and immobile at the center. My Mother and Me was an architectonic form assembled entirely from cow-dung cakes, a Utopian structure that fused the ancient practices of the rural village with Modernism. In another work, Gupta's self-portrait painting, its background smeared with cow-dung, blinks the word "Bihari" in fairy lights, a tongue-in-cheek parody of the ambitions of the hopelessly downtrodden to actualize their "Bollywood Dreams."
Saat Samundar par (Across the Seven Seas) is the title given to a series of large-scale oil paintings that capture a mid-migratory point, the no-man's-land that is the airport today. When viewing Gupta's paintings we are forced to ask ourselves if the journey is at its very beginning or is it reaching its close? Are the subjects coming, going, or hung in the purgatory of delayed departures or early arrivals? An interstitial point both in space and time, the airport signifies exhilaration and anxiety, the tedious boredom that accompanies the most extreme physical dislocation.
Gupta paints the markers of this transgression, the precious cargo that accompanies the passenger. As if to say that we are nothing more than the merchandise we drag around with us: "I Pack Therefore I Am." Poised upon a wheeled trolley are suitcases and packages that represent a life condensed, the most necessary objects (both in terms of quotidian task and emblematic strengths) are swaddled into vinyl boxes or trussed into bulging bundles. In an exhibition in 2003, Gupta accompanied this series of paintings with sculptures of cast-bronze airport trolleys and luggage that had been cast in aluminum, their preparations agile and constantly shifting much as the impulsive choreography which takes place at the airport itself. Chance and arbitrary concurrence are exploited (all the works being based on the artist's own preliminary photographs) so as to create monuments of a transient nature. Likewise, a sculpture depicting packages hoisted upon the luggage rack of a taxi connotes not only tourism and the economy of its infrastructure but also the flight abroad of families and their eventual, perhaps only temporary, return to India. In this mix are complex feelings of insecurity and aggravation, nationalist pride and materialistic yearnings. Gupta cannily spotlights the simple articles that symbolize a myriad of social and psychological conundrums such as these. His sculpture entitled Colgate is the aluminum casts of simple sticks of neem, herbal wood used for medicinal purposes and traditionally in India for dental hygiene.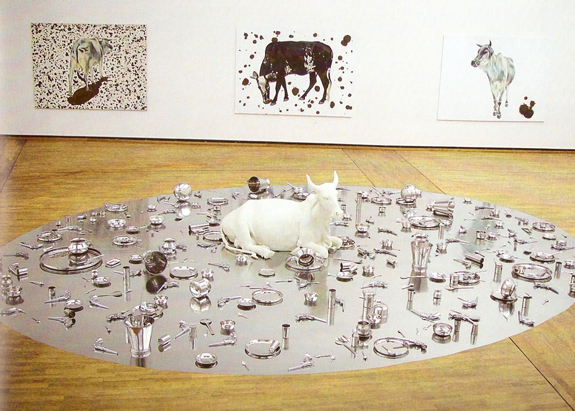 According to Peter Nagy, by continuing to focus on emblems of everyday India, symbols which straddle the rural and urban scenarios, Gupta flirts with the sentimentality which still propels much of what registers as contemporary art in India today. What is produced, in effect, is indigenous Orientalism, one that portrays a rural ideal that is superficial and sanitized, one which serves to widen the rift in any actual understanding that might take place between the cities and villages of India today. <![if !vml]>

<![endif]>
Subodh Gupta's project, then, is bold in its attempt to directly confront loaded points where the city collides with the village, when the contemporary cannibalizes the traditional. In the urban landscape, the doodh-wallah or milkman, replaces his bicycle with a scooter, that poor relation of the motorcycle, and slings it with the same cans of hot broth fresh from the cows' udders. Gupta dives into these contradictions greedily, enthusiastically stirring up issues relating to development and notions of progress, racism and discrimination by skin tone (as operative within India as it is elsewhere), caste-based politics, even globalization and the continuing subjugation of the Third World by the First. Gupta's formative years were spent participating in a traveling Hindi language theatre groups, as both actor and a set-designer, and this foundation has led him to experiment with forms of expression which are reminiscent of the cathartic use of the body by the Viennese Actionists.
His instantaneous experiments without regard to the categories of artistic mediums and his consistent use of potent resources and symbols has been both audacious and clairvoyant within the rather stultifying arena of India's contemporary art scene. Gupta's exposure to and participation in an international art scene has only honed his perceptions of India and its culture. Meaning, both personal and collective, is mercurial and to grab hold of it for even a fleeting moment takes perseverance and insight.
Bhavna Kakar is a Delhi based Curator, Consultant and Art Historian, and the Editor of Art & Deal.
-------------------------------------------------------------------------------------------------------------------------------------------------
References:
1: Johnny ML, Issue no 27, Art and Deal Magazine
2: Peter Nagy, Essay, Subodh Gupta (Published by Nature Morte and Sakshi Art Gallery
Picture Courtesy - Bhavna Kakar