G. R. Iranna
And the last shall be the first:
G. R. Iranna, Works 1995 - 2015

Essay by Ranjit Hoskote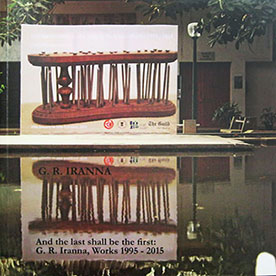 Published by The Guild
Iranna's new series of works included in the exhibition 'And the last shall be the first: G. R. Iranna, Works 1995-2015' presented in collaboration with the National Gallery of Modern Art, Bengaluru and curated by cultural theorist, poet and independent curator Ranjit Hoskote, evoke the romance of receding utopia; whether it be a glimpse of blue sky between the trellis of a carpet much used, or the myth of Narcissus played here by the reflection of a tree ina pond, titled, Erased Plant, Iranna's juxtaposition of myth and loss render the present with poetic weight.
G. R. Iranna was born in Sindgi, Bijapur, Karnataka, in 1970. Iranna's museum and institutional shows include The Eye and the Mind: New Interventions in Indian Art, organised by National Gallery of Modern Art, New Delhi, at the Minsheng Art Museum, Beijing, China, curated by Prof. Rajeev Lochan; the Heritage Transport Museum, New Delhi, curated by Priya Pall; Museo de la toile de Jouy Espace d'art contemporain, Paris; Roots in the Air, Branches Below: Modern & Contemporary Art from India, San Jose Museum of Art, San Jose, California, USA; Crossings: Time Unfolded, Kiran Nadar Museum of Art (KNMA), New Delhi, curated by Roobina Karode; Go See India, curated by Amit Mukhopadhyay and Oscar Aschan, Contemporary Indian Art, Gothenburg, Sweden; The Intuitive-Logic Revisited, from Osians Collection at The World Economic Forum, Davos, Switzerland, among numerous others.

Hoskote has been active as an independent curator since 1993. He curated India's first-ever national pavilion at the Venice Biennale (2011). With Okwui Enwezor and Hyunjin Kim, Hoskote co-curated the 7th Gwangju Biennale (2008). He was co-convenor, with Maria Hlavajova, Boris Groys and Kathrin Rhomberg, of Former West Congress: Documents, Constellations, Prospects (Haus der Kulturen der Welt, Berlin, 2013). Hoskote has curated two monographic surveys of Atul Dodiya (Bombay: Labyrinth/ Laboratory, Japan Foundation, Tokyo, 2001; and Experiments with Truth: Atul Dodiya, Works 1981-2013, National Gallery of Modern Art, New Delhi, 2013), a lifetime retrospective of Jehangir Sabavala (NGMA, Bombay and New Delhi, 2005-2006), and Unpacking the Studio: Celebrating the Jehangir Sabavala Bequest (CSMVS, Bombay, 2015). In 2015, Hoskote served on the Jury of the 56th Venice Biennale.