Face To Face: Art Practice Of A. Ramachandran
Written by Ella Duttta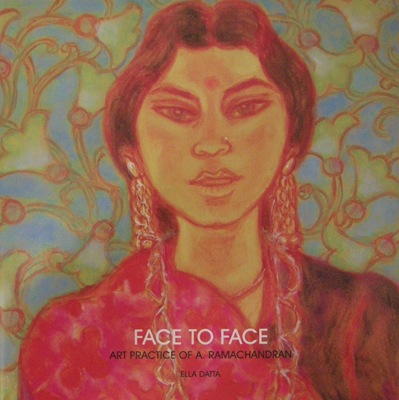 Hard Bound with dust jacket
172 pages with more than 95 colour plates
Pages with text 35
Publishers The Guild
Professor A. Ramachandran has contributed significantly to the Indian art scene. He has been a ceaseless experimenter and a versatile artist. Over the years his paintings have acquired a classical monumentality and his use of medium and colours luminosity. He has also created a substantial body of sculptures. This book of three essays and a photo-essay is being published on the occasion of his solo exhibition in New York in December 2007, featuring faces from Rajasthan, studies of heads in oil and a suite of ten watercolours. The book crystallizes the artist's philosophy of life and his persona and his relationship with his subjects and himself while distilling his philosophy of the surge of life force in all things in the universe. It highlights his observations about his aesthetics and the evolution of his distinctive visual style, as well as the influences of Kerala and Santiniketan in moulding his artistic sensibilities. His engagement with modernism does not confine itself to expressing himself through an international idiom, but reinventing a traditional idiom to suit a contemporary sensibility. Besides his paintings, he has also created a substantial body of sculptures.
Ella Dutta has been writing on Indian art and culture for more than thirty years. Her comments on modern and contemporary art have been published in all national and financial dailies. She has also contributed several catalogue essays on some of the major Indian artists and on trends in art.
Price Rs. 2900/- + postage Rs. 500/- in India
USD 38/- + postage USD 20/-
Cheque to be issued, favouring The Guild.