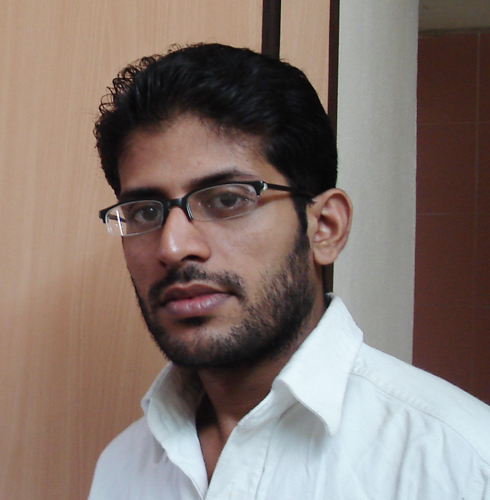 Born in 1977 Om Soorya graduated from Calicut University in History and obtained a BFA in painting from College of Fine Arts, Kerela University, Thiruvananthapuram and a MFA in painting from University of Hyderabad. Om Soorya is a receipient of the Emerging Artist Award, 2007 given by Foundation for Indian Contemporary Art (FICA).Om was part of the Peers 2003, Khoj Residency, New Delhi and the Prohelvetia Residency program at Zurich in 2009.Om Soorya's recent solo shows include 2010 The Guild Art USA Inc, New York; 2009 'Grass-Hope', Galleria Dell'Arco, Shanghai; 2008 'Trans (CE) locations', Vadehra Art Gallery, New Delhi, 2008 ; 'White Clouds: The Finishing Point', The Guild, Mumbai in 2007-08 ;'Random Mirrors in the City of Villagers', The Guild, New York. His other group shows include 2008-09 'Effetto Stalker # 2', Galleria Dell'Arco, Palermo, Italy; 'Interlude: Venice/Kassel', organized by The Guild, Mumbai at Jehangir Nicholson Art Gallery,National Centre for Performing Art (NCPA),Mumbai 2008, 'Linkages/Dialogues', The Guild, Mumbai, 2007 and Nature Morte, New Delhi, 2007.
About his recent body of water colours at The Guild titled 'White Cloud - the Finishing Point' the artist says "I use water colour to intimately explore the freedom of rendering an idea. I wish to bring in an experience of painting rather than create imageries. Finally it becomes the combination of subjective and objective surroundings, bringing together imagery from contradictory or unexpected sources, historical, geographical and contemporary. Through this process I enjoy the relationship between abstract and figurative art, and it helps me to resist being categorized as belonging to a certain school or thought. But still the total idea of my painting is not far away from the conventional thoughts; it is close to life and its existence. The recent visual language of my works has evolved through my lived experience in urban and rural spaces and also through the world of contradictions. It creates a kind of ambiguity between reality and unreality, chaos of culture and a spiritual quest."-Om Soorya.
"Om soorya's recent suite of paintings is a vision about a space which is suspended, compressed, psychedelic and hallucinatory. In the genre of landscapes this proposes a kind of representation where the poetic fuses with the melancholic and childhood fantasy evokes the absurd. The objects and figures dissolve (or emerge) in deep darkness and silence, and chaos appears to be inevitable. The landscapes are in monochrome, there are tender clouds of lightness filled with light creating hope amongst the devastated, a room for day dream. There are figures of allegorical significance, which can be traced to historical meanings, and nostalgia, displacement and memory come into play to reason out its philosophic nature. Within this there is a mention of the present and the contradictions that lie within. The reminiscence of places of worship – like a mosque, temple or pagoda, or a Buddhist Chaitya not only indicate the very recent political upheavals in the country and around but compel us to understand the philosophical nature they imbibe.
Om Soorya speaks of the ambiguity and the paradox of the global world when there is a prominent diasporic population, experiencing displacement. Closer interaction of disparate cultures brings about a predictable collision or motivation from each other. The body may celebrate the wealth and the riches around and yet one may start a spiritual quest around one's existence. Thus, his landscapes depict this kind of ambiguity between the real and the unreal, and brings into existence the fables and parables of a personal order." – (Excerpt from Catalogue essay by Shubhalakshmi Shukla)
"Om Soorya's landscapes, as he accepts in one of his notes, represent a twilight zone illuminated by lights that could be seen as the lights of transcendence. Though representation of a mood is what he attempts in the paintings, he recognizes the impossibility of it as each step towards representation throws a new aesthetical and philosophical challenge for the artist. However, the conventions of painting 'tradition' draw him to the basics of representation. Through certain deliberate interpolations and erasure, Om Soorya creates a mood that would well correspond with the mood of the current history of his location and nation.
Om Soorya's desire to negate movement, monumentality and materiality from the spaces of exhibition should be seen as his desire to introduce a critique of the society of the spectacle. And his paintings try to contain the 'imprisoned modern society' that expresses its 'desire to sleep'. The urgency to represent and the impossibility of pure representation guide the artist to embed the loaded notions of culture within his paintings. Om Soorya's paintings are strategies for aesthetically addressing and representing a peculiar historical situation where the mass society that includes the artist himself is condemned to live a life of cultural conformism. The desexualized but desirous in their terrific beauty, these landscapes of Om Soorya engage the viewer with the ideas of counterculture that tries to balance itself between aesthetic subversion and ideological co-optation." (Excerpt from catalogue essay 'Moving Ship in a Gallery' by Johny M. L)