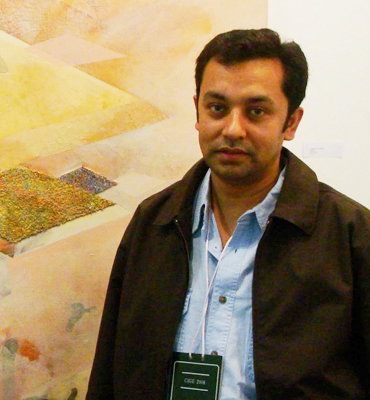 Born in1969 in W. Bengal . He did BFA and MFA in painting from M.S.U. by 1995.
Received award at The Elizabeth Greenshields Foundation Grant, Canada and Ravi Jain award, New Delhi.
His solo shows include 'Veneered Images' at Prithvi gallaery(2000), 'Considering The Forgotten' at Nazar Art Gallery (1998), 'Portraying the Familiar' at Triveni, New Delhi and 'Beyond Visions' at Mumbai(1997).

His group shows include 'West Zone Artists' at Tao Art Gallery, Mumbai (2001) 'Kunst and Brot'(art and bread) at Hamburg, Germany (2000), 'considering the forgotten' at Nazar art gallery, Baroda and 'portraying the familiar' at 'Triveni, New Delhi and others.

He has participated in several workshops such as, an artists literacy camp at Dang Dist. in Gujarat; Drawing workshop by Nalini Malani; workshop by Vivan Sundaram and workshop by British Artist Micheal Anderson at Bon Hoogli, Bengal.

Ever since his post graduate days Arunanshu has been open to experimentation in the usage of different mixed media, working with oils, charcoal, collage, paper, acrylic, water colours and even screen printing. Arunanshu Chowdury gathers his inspiration from the urban society and the surroundings portraying different aspects of our society. His works show the daily activities along with the objects and images that one encounters everyday. He uses several metaphors, significant in relation to the main thought behind his work related to the urban environ.